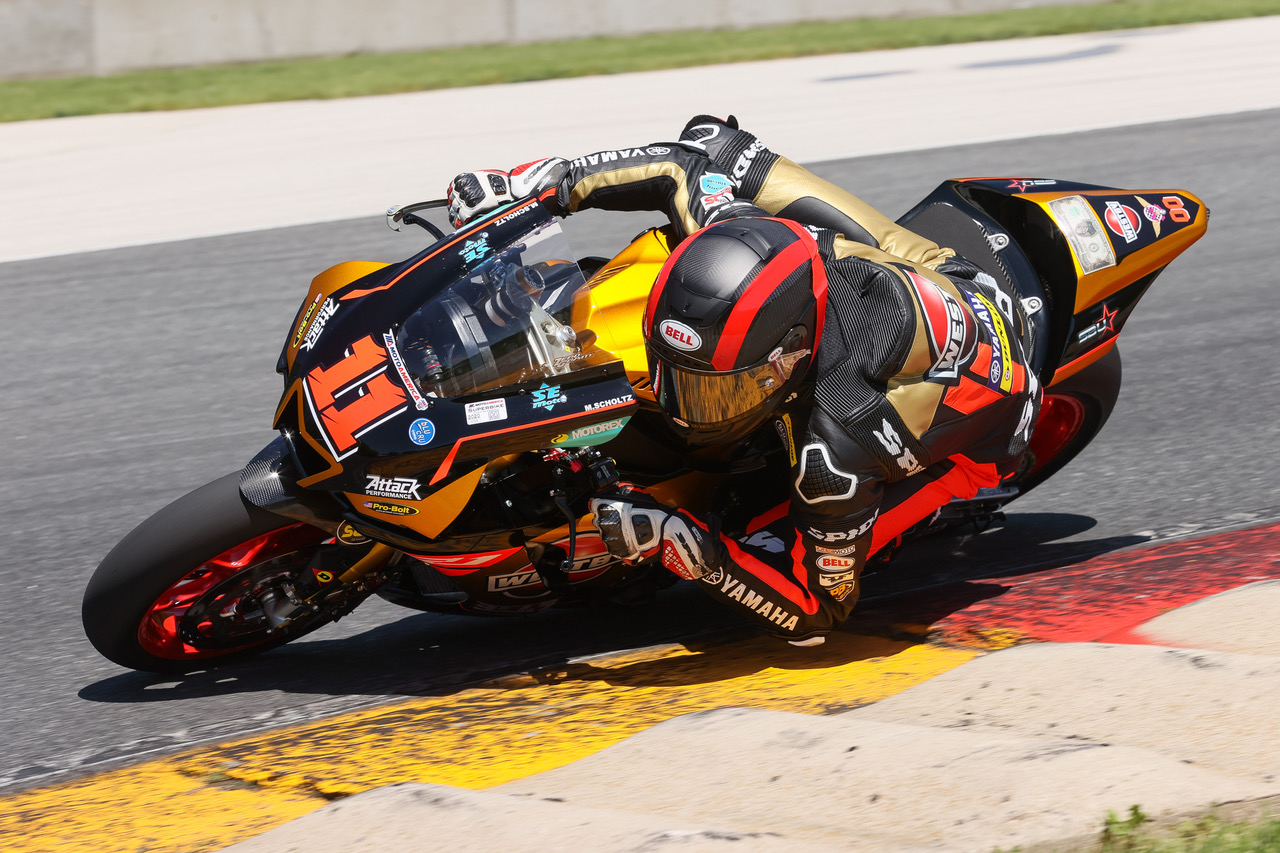 The following is from Westby Racing…
Round two of the 2020 MotoAmerica AMA/FIM North American Road Racing Championship starts this Friday at Road America in Elkhart Lake, Wisconsin, and riders Mathew Scholtz and Cody Wyman, along with the entire Westby Racing team, are excited about this rare opportunity to return to the iconic, 4.05-mile, 14-turn natural road course for the second consecutive round.
And, what makes this round extra-special is that the fans will be in attendance, which gives Mathew, Cody and the team extra motivation to win.
"We're really looking forward to being back at Road America," commented Mathew. "The first round went really well for us, and for this round, we've got a couple of new parts that should really help with the power of the bike. (Crew Chief) Ed (Sullivan), (Electronics Specialist) Herschel (Auxier), and I have sat down and come up with a plan to improve the bike even further. So, I'm excited to get back out there and build on what we did in round one. Also, it's going to be great to race in front of the fans. It was a little bit strange to be at the biggest circuit on our schedule a month ago and not have the fans in attendance. Having fans there brings a whole different atmosphere and gets everyone pumped up even more. Road America has been a difficult track for me over the past few years but finishing second in race one last month was very encouraging. We're aiming to improve even more this weekend."
Superbike Superpole is on Saturday at 10:30 AM Central, Superbike race one will go green on Saturday at 1:15 PM Central, and Superbike Race 2 is on Sunday also at 1:45 PM Central. Both races will be broadcast on FOX Sports 1 (FS1) and Eurosport, as well as streamed on MotoAmerica Live+.
Cody, who competes in the MotoAmerica Junior Cup Championship aboard the #34 Westby Racing Yamaha YZF-R3, is looking forward to returning to Road America after finishing just one spot off the podium in Sunday's race at round one.
"I can't wait to get back to competing, especially in front of all the fans at Road America." Cody said. "I know there's a huge fan base up there eager to get out and enjoy some racing. It's a little strange going back to the same racetrack, but we know what to expect for the races. I've had weeks to discuss adjustments to make the bike even better this time around. We also had a solid fourth-place finish on Sunday and are looking to build off that momentum. My goal is to fight for the podium, and to be closer to the front group. There may be some weather on Friday to work around, but it should be an awesome weekend to put on a show for the fans. See you all there!"
Junior Cup race one starts on Saturday at 2:15 PM Central, and Junior Cup race two is on Sunday at 2:45 PM Central. Saturday's race will be broadcast live on Facebook and via tape-delay on FOX Sports 2 (FS2), and Sunday's race will be broadcast via tape-delay on FS2 (check your local listings for FS2 airtimes). In addition, both Junior Cup races will be streamed on MotoAmerica Live+.
Meet Mathew and Cody, Get Some Autographed Posters, And More
Mathew and Cody will both be at the Westby Racing transporter in the Road America paddock during two Dunlop Paddock Autograph Signings. The first one is on Saturday from 12:15 to 12:45 PM, and the second one is on Sunday from 11:30 AM to 12:15 PM. They'll have free, autographed posters and other team items to hand out while practicing social distancing for the fans' protection.
For more updates about Westby Racing, including news, photos, and videos, visit https://www.WestbyRacing.com Also, follow "Westby Racing" on your favorite social media sites.