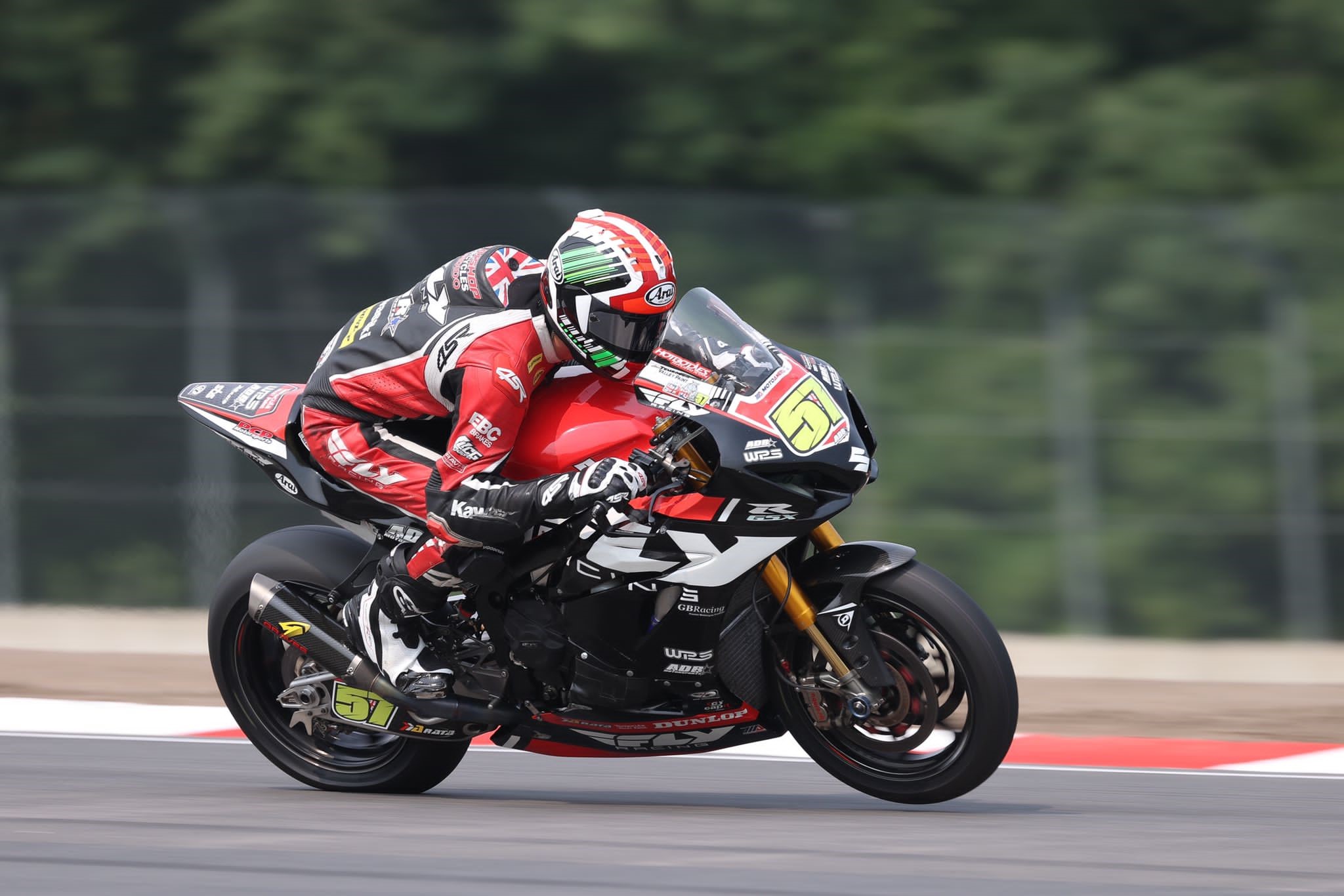 The following is from Bradley Ward Racing…
Returning to the track at Brainerd International Raceway this past weekend, Ward far exceeded his expectations, impressing many as he raced to tenth and ninth respectively in the two Superbike races at the 2.5-mile circuit.

Unsure of how he would perform having not actively ridden a bike in more than a year, the #57 rider, looked as though he had never been away. Sporting a razor-sharp new hairstyle, he made the most of Thursday's additional test, included in the schedule to give all riders more time to learn the BIR circuit which was new for the majority.

He qualified on Row 3, before finishing an impressive ninth in Sunday's second race, his second top ten result of his racing return.

Bradley hopes to remain with the FLY ADR Motorsports squad at the next round of MotoAmerica which will take place in Pittsburgh in a fortnight. Bradley Ward: "Firstly I want to say a massive thank you to everyone who has stood by me during my recovery. It's been a tough ten months but with the support of my parents, family, girlfriend, the whole ADR Motorsports, and the constant stream of kind messages on social media I have been able to return to the track. It wasn't the plan to race again in MotoAmerica this season. I was going to sit it out and work towards 2022 but with Jayson Uribe heading off to World Superbikes the opportunity was there, and I couldn't say no. I hadn't been on a bike for ten months and am still not 100% but I couldn't turn the chance to jump in at the deep end in the MotoAmerica Superbikes class at Brainerd. I knew it was going to be tough, but I went in with an open mind and no pressure. It was a new bike; a new track and I wasn't sure I would be even halfway competitive. The Thursday test helped, and I made a few changes compared to how Uribe rode the bike. Small things like lifting the seat to give me a bit more space. It was good to be going 170mph again. I was able to qualify P9 and was pleasantly surprised. In Race 1 I made a good start but there was a red flag. In the restart I got away well, made a few passes and was fighting for the top ten which is where I crossed the line. During Saturday's race my right foot really started to burn. I didn't know what it was but after the race I discovered a 4–5-inch blister. The joys of not riding a bike for almost a year. On Sunday I was in a lot of pain. The blister was full of fluid, but I had it taped up and just gritted my teeth. I tagged on Dave (Anthony). I was able to make four or five good passes and took ninth at the flag which all things considered was a great result. It's been a long road, but we did it and I hope to see everyone in Pittsburgh!"
---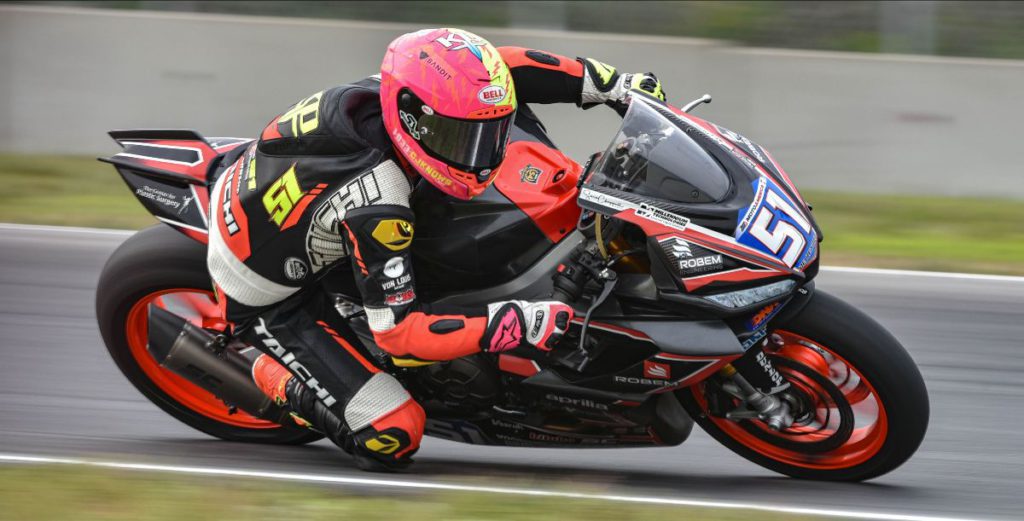 The following is from Robem Engineering…
This past weekend marked MotoAmerica's first time holding an event in Robem Engineering rider Kaleb De Keyrel's home state, and the Minnesotan didn't disappoint his friends and family who were on hand at Brainerd International Raceway. The Aprilia rider started the inaugural MotoAmerica Superbikes at Minnesota with a 15-point advantage in the Twins Cup standings, and he left the July 30-Aug. 1 event with a win, a second place and a 53-point championship lead.

The team's other rider, Toby Khamsouk, had a good outing at Brainerd. He amassed two sixth-place finishes aboard his Aprilia RS 660 and maintained seventh place in the standings, decreasing his gap to sixth place from 18 points to four.

With four Twins Cup races remaining in the 2021 season, the 2020 Twins Cup runner-up De Keyrel is in an excellent position to claim his first MotoAmerica title — as well as make the Aprilia RS 660 a championship-winning model in its first year competing in the MotoAmerica Twins Cup.

After a day of testing at the 2.5-mile Brainerd circuit on Thursday, both Robem Engineering riders were near the front of the field in Friday's Twins Cup practice. De Keyrel was the fourth-fastest rider in the session, and Khamsouk was seventh-fastest. When qualifying got underway later Friday, De Keyrel ended the session in sixth place and Khamsouk was in ninth. When qualifying wrapped up Saturday, both riders had improved their best times by about 0.8 seconds. De Keyrel put his Aprilia on the front row of the starting grid by qualifying third, and Khamsouk secured eighth place.

When Saturday's Twins Cup race got started, it was De Keyrel leading the field through the first corner. Though De Keyrel was passed several times later during the first lap – falling as low as fifth in the running order on Laps 2 and 4 – he worked his way up to second on Lap 6. Khamsouk finished the first lap in ninth place, but quickly recovered – finishing Lap 3 in seventh. De Keyrel was about three seconds adrift of the race leader on Lap 6, but methodically closed the gap. Five laps later, De Keyrel was about 0.2 seconds behind the race leader as the duo started the final lap. When the race leader made a mistake at the penultimate corner of the race, De Keyrel got by him and claimed victory at his home track by 0.244 seconds. Khamsouk finished the race in sixth place — his fourth top-six finish of 2021.

Sunday's race saw De Keyrel further his effort to win his first MotoAmerica crown. He got another good start and was challenging for the lead at Turn 1. Khamsouk also got a good start, moving up to sixth on the first lap. De Keyrel led Lap 1 and was part of the four-way battle for the lead for the remainder of the 12-lap race. After running as far back as fourth on Laps 3, 4 and 7, De Keyrel showed good race pace when he took the lead back on Lap 9 and ran in second place for the last three laps. Though he wasn't able to mount an attack for the lead at the end of the race, De Keyrel finished ahead of his championship rivals. Khamsouk was reeling in the fifth-place rider in the race's closing stages but had to settle for his second sixth place of the weekend.

The Robem Engineering team has a weekend off before the next MotoAmerica round, which is scheduled for Aug. 13-15 at Pittsburgh International Race Complex in Wampum, Pa.

Kaleb De Keyrel / No. 51: "We found some things in Qualifying 2 that really helped improve my feel with the bike. It was great to be on the front row for the start of my home races. I got two really good starts this weekend, though I got shuffled back pretty quickly in Race 1. After I got by three of the guys who'd gotten by me, I just put my head down and focused on catching the race leader. I caught up to him with two laps to go and got by him at the last corners of the last lap. It was an epic race for me. I had a huge support group here at Brainerd, and it was great hearing the fans get into it at the end of the race. In Race 2, I led for the first lap or so, but the group at the front ended up shuffling positions a bit. It evolved into a three-rider battle, then the race leader pulled a big enough gap on me that I couldn't make anything happen to try to get the win. It was still a really good race for us. My Aprilia RS 660 was working great all weekend, and this event was huge for us in terms of the championship. I couldn't imagine a better points-paying weekend, especially in front of my home crowd. I'm looking forward to riding this amazing bike for the rest of the season."

Toby Khamsouk / No. 27: "I had a lot of fun and learned a lot this weekend at Brainerd. We've been making steady progress in finding a good set up, and I'd like to thank Eric Vallarta of Velocity Calibrations and my team owner, Matt Spicer, for giving me a really good setup this weekend. I'm looking forward to making more progress at Pittsburgh."
Robem Engineering's technical partners for 2021 include Aprilia Racing, Piaggio Group Americas, The Center for Plastic Surgery, Velocity Calibrations, Bitubo Suspension, Dunlop, Woodcraft Technologies, Dymag, Vesrah, DNA Filters, Magura USA, Sara Chappell Photos, NGK/NTK, Blud Lubricants, Millennium Technologies and SC-Project.
---
The following is from Suzuki…
Suzuki Motor USA, LLC, and Team Hammer added to their burgeoning mid-season trophy haul with another outstanding performance as the MotoAmerica AMA/FIM North American Road Racing Championship returned to Brainerd International Raceway for the first time in nearly two decades.
When the final checkered flag flew, the combined Suzuki effort tallied an additional three victories, six podiums, and two poles.
M4 ECSTAR Suzuki's Sean Dylan Kelly continued to build his season points lead in MotoAmerica's Supersport Championship. The 19-year-old Floridian scored his ninth victory of the '21 campaign, including the last six in succession.
'SDK' continues to show his ability to win in varying fashion, keeping his rival tight behind his Suzuki GSX-R600 on Saturday, and then pressuring from second throughout much of the race on Sunday. Kelly now has a strong 61-point lead with six races left.
"Sunday's race was even tougher than Saturday's," Kelly said. "We were able to hold on and went head-to-head for a few laps for the lead. I made a little mistake, and he pulled a little gap, but we kept the pressure on and that's part of winning.
"I think we are doing things the right way, and we're going to keep on working. I'm super stoked with my GSX-R600 and the entire M4 ECSTAR Suzuki team. My guys are working so hard and always believe in me."
Kelly was twice joined on the podium by Team M4 ECSTAR Suzuki teammate Sam Lochoff, who continues to show rapid improvement in his rookie MotoAmerica Supersport season. The South African turned consistent laps into a pair of thirds, upping his 2021 tally to three podiums.
M4 ECSTAR Suzuki's talented Superbike duo of Bobby Fong and Cameron Petersen were very much in the mix as well. Fong looked set to repeat his Saturday second with another runner-up on Sunday, but an off-course excursion dropped him several positions down the order. Undeterred, Fong fought his way back up to fourth.
Petersen, meanwhile, was twice in the fight for the podium before ultimately logging fourth- and fifth-place results.
Altus Motorsports Suzuki's Jake Lewis reclaimed the Stock 1000 title lead with a dominant showing aboard his Team Hammer-built GSX-R1000R, while M4 ECSTAR Suzuki's Wyatt Farris earned his best result of the Stock 1000 season in seventh. In Sunday's Superbike Cup race-with-in-a-race for competitors on stock 1000cc motorcycles, Lewis was first and Farris came home third.
"Honestly, the race was picture perfect," Lewis said. "I ran in second for a few laps and then decided to drop the hammer. Hats off to the whole team. The Suzuki GSX-R1000R has been incredible. I feel really good mentally and physically. It feels great to win like that, going away."
---
The following is from Pure Attitude Racing…
Pure Attitude Racing rounded off the sixth round of the 2021 MotoAmerica series with their three participating riders – Liam MacDonald, Nate Minster and Austin Miller – racing to another triple points score.

An additional day of testing prior to the event gave all three riders an opportunity to fine tune their machines ahead of the first AMA National Championship motorcycle road racing event to be held at Brainerd International Raceway for seventeen years!
Sole Twins Cup representative for the team Liam MacDonald ran a strong second on the opening day of on track activity before qualifying a superb seventh on the grid on Saturday. The opening race of the weekend didn't quite go to plan for the #37 rider who crashed out whilst fighting for the top six in the early stages. He bounced back to finish a solid seventh on Sunday.
In Supersport it was Austin Miller who shone in qualifying, the #61 taking ninth on the grid, his career best grid placing in the category. Team mate Nate Minster, who took a heavy tumble in qualifying, secured P10 ahead of the two sixteen lap encounters.
A double DNF on Saturday was disappointing but both riders put Race 1 behind them to secure a double Supersport points score on Sunday. Nate achieved a season's best of seventh, whilst Austin recovered from a heart stopping out of the seat moment on lap one to equal his best result of the year in eleventh.
The team move on to Pittsburgh for Round 7 of the MotoAmerica series in a fortnight, buoyed by the front running pace shown by all three riders, and hopeful that the event will see a racing return for Trevor Standish, who injured himself at Road America earlier in the season.
Nate Minster: "Race 2 was way better than Race 1. I got a good start but took a while to settle down. I dropped back a bit but was able to claw my way forward as the race went on. It was my home race and whilst it would have been great to get a double points finish, we were able to end the weekend with P7 which is the best we have done all season. We can move on to Pittsburgh with new confidence that we are going in the right direction. Thanks to the team who did an excellent job as always!"
Austin Miller: "Race 2 went really good. Starting from P9 on the third row I had a little bobble off the start and almost went down at Turn 3 after a few guys got a bit loose. That pushed me back, but I was able to find my rhythm pretty quickly and by the end of the race was lapping as fast as the guys in the fight for eighth. I equalled my best result in Supersport which is encouraging and shows that we are now consistently fast enough to fight for the top ten. After qualifying so strongly it was a bit disappointing to not make it out for Race 1 but that's racing, and we will regroup and come out fighting at Pitt Race."
Liam MacDonald: "I have mixed feelings about the weekend. It started really well. I was P2 in Thursday's test but then had a spill in qualifying but was still able to make it onto the third row of the grid. I had another crash in Race 1 and so Sunday's second race was about bringing it home. The team did a fantastic job all weekend, they have been amazing and really supportive, and I know that we will be able to put on a good show in Pittsburgh in a couple of weeks."
---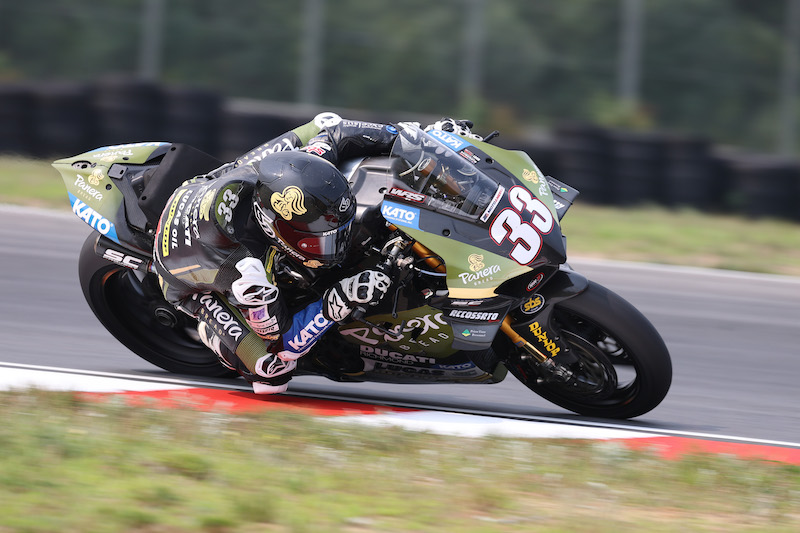 The following is from Kyle Wyman Racing…
Kyle Wyman withdrew from this past weekends races at Brainerd International Raceway due to lingering issues with his elbow injury, sustained on June 13th. KWR did not field a replacement rider for the weekend's races.
Wyman had surgery on his fractured olecranon bone on June 13th, had a plate and 7 screws inserted to fixate the bone on June 17th, and was able to ride three weeks later at the Laguna Seca round, where he subsequently won the King of the Baggers race and the championship on July 13th. Wyman however was still unable to pilot his Panera Bread Ducati Superbike this past weekend, due to the increased physicality needed to ride the Superbike.
"Going into the Brainerd weekend I certainly was expecting to have no problem riding my Ducati," Wyman said. "We even had the Thursday test day to get up to speed and feel it out. During the second practice session on Thursday I had a moment that made me brake extremely hard to stay on the track, and I felt a pop in my elbow and immediate pain. I continued riding, but the swelling and pain worsened. I rode the third session on Thursday and then sat out the final session. Friday morning I rode again and went faster, but I couldn't do more than three laps without severe pain and weakness, and making mistakes on the bike. I couldn't ride to my ability."
With worsening pain and inflammation, the best course of action was to withdraw from the weekend so to not jeopardize the safety of any rider, or to risk further injury. With the next round at Pittsburgh coming up August 13-15, 2021, there is another two weeks for Wyman to improve his fitness to close out the season strong.
"At this point the injury is pretty heartbreaking, because I've now missed the last three superbike rounds, and it's still going to be tough for me to ride at 100% in Pittsburgh next week," Wyman added. "I'm glad I was able to win the Baggers title for Harley-Davidson at Laguna Seca. I feel like that is some redemption on this injury. But with how the injury happened with such bad luck and now with the recovery process taking longer than I suspected, it's a major bummer. The season is flying by. I'll be working hard with the doctors to get healthy and get my body ready to muscle the bike around once again. I just can't thank my sponsors enough for sticking with me through this tricky situation and I look forward to putting them back up front in superbike where they belong."
---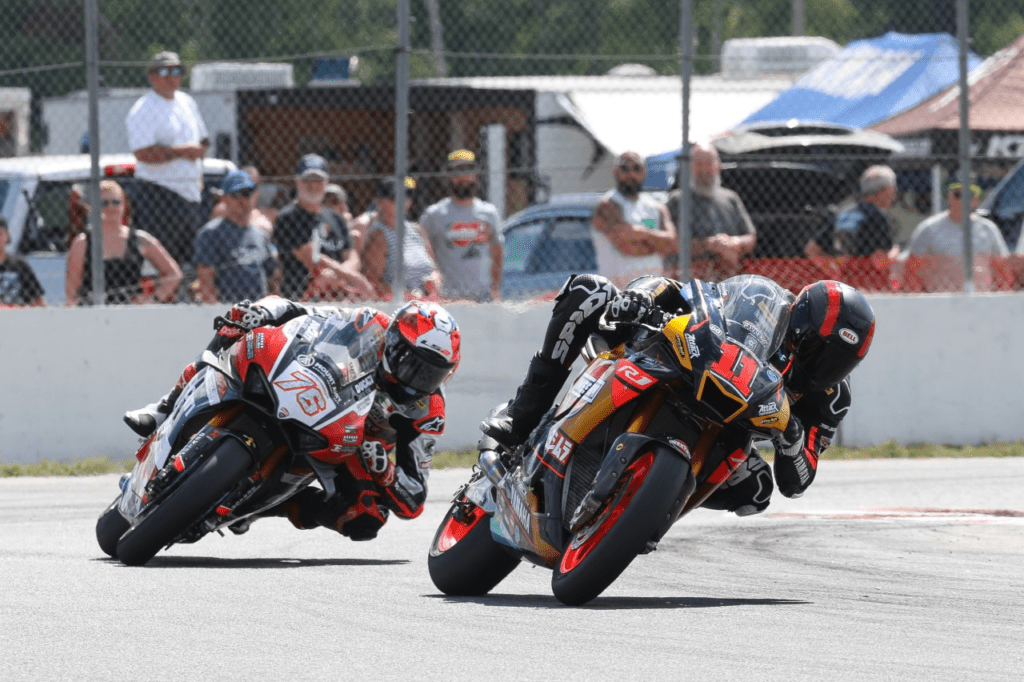 The following is from Westby Racing…
The first time's a charm for Mathew Scholtz and the Westby Racing team at Brainerd International Raceway. In AMA-sanctioned Superbike racing's first visit to Brainerd in nearly two decades, Mathew followed up his third-place result in Saturday's race one with a runner-up finish in race two.
On Sunday, Mathew started on the front row and immediately got into a battle with Cam Petersen. Before long, Loris Baz also joined the fray. Mathew overtook Petersen, but then Baz aggressively overtook Mathew. Baz moved into second place while Mathew gave chase and overtook Baz on lap 11 of the 18-lap race. From there, Mathew held off Baz, and took the checkered flag in second behind race winner Jake Gagne.

Mathew commented: "It's nice to be up here on the podium. At Laguna Seca, it was nice to be on the podium there, too. Then, to come here and get two really good podiums, battling guys, and showing that I have the pace to be up here, it was awesome. I just need to work on the first couple laps because I'm struggling. I kind of suck in the first four or five laps. I have no feeling. I'm slipping and sliding everywhere. I feel like the front is just pushing. I think that Bobby (Fong) was following Jake (Gagne). He pulled away big time. Cameron (Petersen) passed me. I was struggling, and then (Loris) Baz passed me and I kind of thought, 'This guy started in 10th, and he's passing me. I've got to do something.'

"So, I started pushing a little bit harder than I should have. Took one or two chances, but then kind of settled into a decent rhythm from there. I could see when I was fighting Baz, there were a couple corners that I would catch him and there were a couple corners where he was pulling a gap. So, we were kind of going backwards and forwards a lot. Then, on one of the laps, out of corner six, we got a pretty decent drive and got within a bike length or two of Loris going into the carousel corner. He went a little bit wider than usual, so I kind of thought this was my chance and I dove up in there. In corner three, maybe corner six, 12, all the corners where you would normally think about passing someone, Loris was an absolute animal braking late. He would pull four or five bike lengths every single time. So, I knew that I had to figure out something somewhere else. I'm happy to be back up here in second place where we should be. I think, the last couple laps, I had the same pace as Jake. I just need to figure out those first couple laps and work on those two, three, four opening laps of just pushing."

Ed Sullivan, Westby Racing Crew Chief, said: "It's been a really good weekend for the team. We steadied the ship at Laguna after a couple of tough events and improved the bike further over this weekend at Brainerd. Today's race was hard-fought with Mathew struggling to find a rhythm in the early laps, but after a really good pass on Baz, he put in some fast laps under a lot of pressure and finished a strong second. We look forward to trying to close the gap to Gagne at Pitt Race in two weeks."

Chuck Giacchetto, Westby Racing Team Manager, said: "The weekend at BIR was very important for the team, and this was a fantastic way to start the second half of the season. I'm very proud of our team in all areas. The stage is set for the second act, and I'm pumped that I have a front-row seat. See you all at Pitt Race."

Westby Racing's Junior Cup rider Jack Roach had a learning weekend aboard his Yamaha YZF-R3. He followed up his eighth-place finish in Saturday's race one with an 11th in Sunday's race two. Even though the results were not what Jack was hoping for, on the bright side, he did move into the top 10 in the championship points standings.
Next up for Westby Racing is round seven of the MotoAmerica Championship, which will take place at Pittsburgh International Race Complex in Wampum, Pennsylvania, on August 13 through 15.
---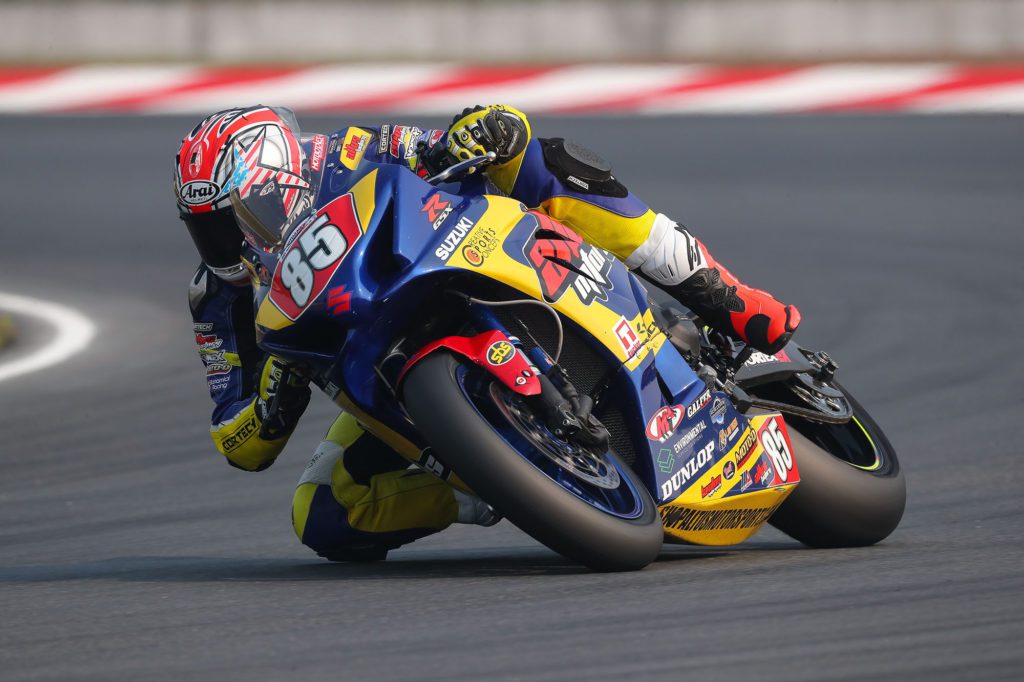 The following is from Altus Motorsports…
Brainerd International Raceway is a new circuit for MotoAmerica this season. As a result, very few of the riders have previous experience on the track. The Thursday before the race weekend was a test day hosted by MotoAmerica, and Altus attended. The track turned out to be unforgiving and claimed a lot of bikes across all classes over the course of the weekend. Including Thursday, the Altus team had four crashes by three riders. It was a weekend full of highs and lows.
Honos Superbike & Stock 1000: Jake Lewis had an outstanding weekend. He topped all practice and qualifying sessions, giving him pole position for the one Stock 1000 race at Brainerd. He started from pole, took the holeshot, and led almost every lap of the race to take a commanding win. This was an important victory for the team as it elevates them to the top spot in the Stock 1000 Championship by two points.
"The team and the bike were incredible this weekend," said Jake Lewis. "The Stock 1000 win was an important one. There are only three more stock races, and we need to win them."
Lewis also contested the Superbike class both days. On Saturday, he started from 10th and finished 7th. In the Sunday race, he started from 7th and finished 8th. Both days, he was the top Stock rider and earned valuable points in the Superbike Cup, a championship that he now leads by 11 points.
Supersport: Jaret Nassaney had a solid weekend with two top-ten finishes and some good points towards the overall season championship. He started race one from 12th and finished 8th after a race-long, four-bike battle. He also started the second race from 12th and finished 9th. Nassaney currently sits 8th in the overall championship points
Kevin Olmedo had a forgettable weekend. He crashed the bike on Thursday and again on Saturday during Q2. In spite of that, he qualified 5th. Unfortunately, he didn't finish either of the Supersport races at Brainerd. In race one, he was in the fight for third when he had a crash on lap 6. The team put the bike back together overnight, and it ran well during morning warmup. However, in Race 2, the bike began cutting out, and he was forced to retire.
Junior Cup: Hayden Bicknese had qualified 14th, in spite of a severe crash during the second qualifying session. He was okay, but the bike took a lot of damage. The mechanics got the bike back together in time for race one and Hayden finished 15th. Unfortunately, the bike did not feel right. Overnight, the team rebuilt the bike again but during morning warm up, it still wasn't handling well. As a result, Bicknese did not start the Sunday Junior Cup race.
"The weekend started with a lot of lows. We had a lot of crashes. And they were big wrecks. Jake's results did a lot to lift the spirits of the team, and we are looking forward to the next round," said team owner George Nassaney. "I am extremely thankful for our mechanics and crew chief Eric Gray. They worked their butts off this weekend."