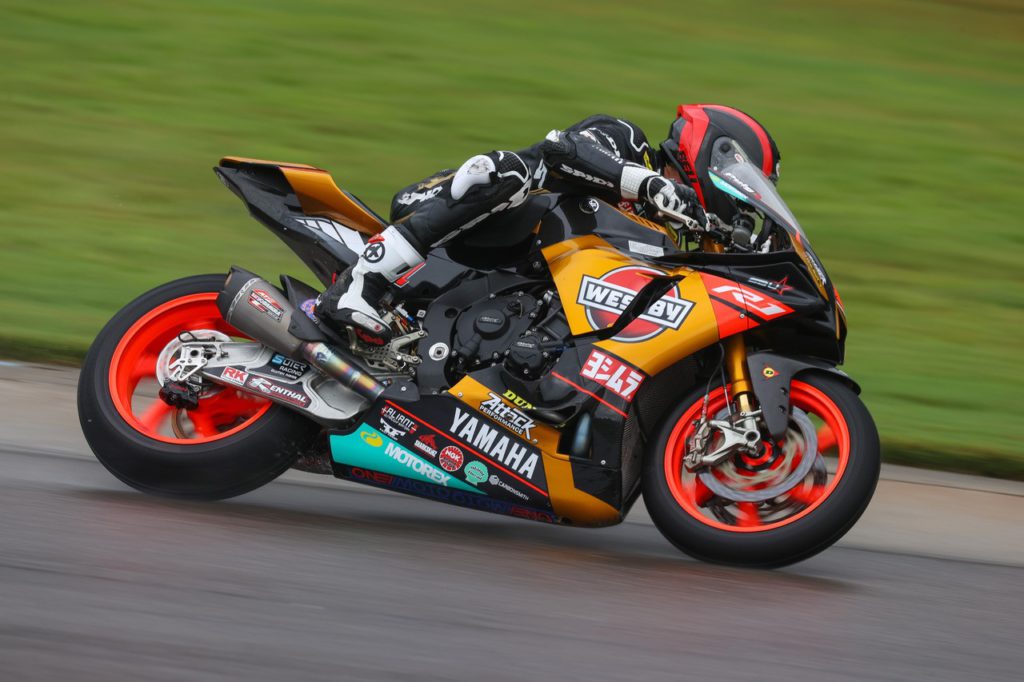 The following is from Westby Racing…
On the final day of the 2021 MotoAmerica Championship, Mathew Scholtz and the Westby Racing team put a crescendo on their season with a Superbike victory in race two on Sunday morning at rainy Barber Motorsports Park, followed by a runner-up finish in race three on Sunday afternoon.
The win and the second-place finish were the 15th and 16th podium results out of 20 races this season, making 2021 Westby Racing's most successful Superbike season yet.
In Sunday's first of two races, Mathew got to the front quickly and built a gap of more than seven seconds. At that point, a deer decided to get in on the action, and it ran across the track ahead of Mathew, which resulted in Race Control stopping the race and declaring Mathew the winner.
After the victory, Mathew said, "I pulled a pretty decent gap in the first couple of laps, and I took some pretty decent risks in the more fast-speed corners, which, I think, definitely helped me open up the big gap. I tried to charge. At the halfway point, I had a couple decent front-end pushes, front-end wobbles. I also tucked the front in corner five. So, I kind of just chilled out, watched the board, and tried to hold the six- or seven-second gap. I think, with five laps to go, I was coming over the corner of 14, 15 there, and a deer jumped out onto the track. I didn't really think too much of it then, but I saw that the red flag came out, and I knew that I had won it there. Just a big thank you to the Westby crew. Now, we'll wait and see what the weather does and come out swinging in the third race."
After Sunday's second race, in which Mathew finished second for the ninth time this season, he said, "I think 2021 has been a fair season for me. Last year, it was also going pretty well and then, unfortunately, at Indianapolis, I had a bad crash, and it almost ended things for me. But luckily, I'm back here riding again. Like I was saying earlier, I had kind of gotten through the halfway point of the season, and we just started chasing setup and going down the wrong rabbit hole. Some things changed for the last three or four rounds. We've been getting stronger and stronger. So, it's always good to end the season off like we have. Now, it gives us confidence heading into 2022. I'm going to be back with the Westby squad. I've been here for five years, going on six years now. They're all family to me. So, I couldn't be happier. I get paid to race motorbikes in one of the best championships. I'm here racing against some the world's best guys and giving it to them sometimes, and sometimes they give it back to me. So, it's always great. I'm just looking forward to coming back in this championship and hopefully challenging Jake next year. We'll come out swinging next year. We know what sort of lap times we need to do, where we need to do better. So, we'll work on that during the off-season. I won't be going home (to South Africa), which kind of sucks, but that gives us some more testing time."
Ed Sullivan, Westby Racing Crew Chief said, "It's nice to finish the season off on a high with the win in race two. Even though all of the races were wet this weekend, the track surface was different for each race. We seemed to get it right this morning, and the Attack guys got it right in the afternoon. Mathew was really strong all weekend, in the wet or dry, and he carried on his form from the past few rounds. 2022 starts now, though. We are preparing our testing program and are working on the areas that we believe we need to improve. All of us are looking forward to COTA 2022!"
Chuck Giacchetto, Westby Racing Team Manager, added, "I'm grateful to everyone who made it possible for us to finish second in the 2021 Superbike Championship. A very special thanks to Tryg Westby, who makes it possible every single day. I'm sad to have the season end, but I'm very much looking forward to 2022."
And so, that concludes the 2021 MotoAmerica Superbike Championship for Westby Racing. Mathew and the team will start working towards the 2022 season with the goal to move up one position in the final point standings next year, which is 2022 MotoAmerica Superbike Champion.
The following is from Robem Engineering…
With the 2021 MotoAmerica Twins Cup title already clinched, Kaleb De Keyrel didn't have to take part in Sunday's wet MotoAmerica Twins Cup race at Barber Motorsports Park. Nevertheless, the Robem Engineering Aprilia rider negotiated challenging track conditions to finish the season the same way he started it — with a victory.
The Minnesotan piloted his Aprilia RS 660 to his fifth win of the year and capped off his title-winning season by finishing 68 points ahead of the runner-up in the Twins Cup points standings.
The Robem Engineering team had three other rides take part in the Barber round, including Aprilia test rider Tomasso Marcon. The Italian claimed his second Twins Cup pole position in as many races. Also riding for Robem Engineering were 15-year-old Max Toth – in his third outing with the team – and team manager Carl Price.
Two of the team's riders were near the top of the time sheets when on-track activities got underway Friday. Marcon and De Keyrel finished Friday practice in second and fourth place, respectively. Toth found himself in 13th place as he was learning the tight, technical Barber circuit, and Price finished practice in 29th. In Friday's Qualifying 1 session, Marcon posted the fastest lap time – which was almost two seconds faster than his best practice time. De Keyrel posted the third best time of the session. Toth was 14th-fastest and improved his best lap time by about half a second but suffered a crash, and Price qualified 26th.
Wet conditions in Saturday's Qualifying 2 session didn't allow riders to better their lap times from Friday's Qualifying 1, which handed Marcon his second-consecutive MotoAmerica Twins Cup pole position. The team used Qualifying 2 to perfect its wet weather setup for all four riders' Aprilia RS 660s, though Toth endured another crash during the session.
In the lone Twins Cup race of the weekend, Marcon grabbed the holeshot as he and De Keyrel held onto their qualifying positions through the first two corners. The race came to an end for Marcon at Turn 3 though, as his motorcycle suffered a technical problem and stopped running. De Keyrel picked up where Marcon had left off at the front of the field, as he made a move for the lead at the Museum corner. Though De Keyrel dropped to second place later in Lap 1, he re-assumed the lead when the race leader crashed out at Turn 2 on Lap 2. The race was stopped a short time later and was restarted as a five-lap contest.
Marcon and his bike were brought back to the paddock when the race was stopped, but the Italian's Aprilia experienced another problem before the restart that kept him out of the race. De Keyrel got a good restart and was in second when the field made its way through the first turn. Later in the first lap, De Keyrel was running in second when he rode around the outside of the race leader in Turns 15 and 16, regained the lead and was the first to cross start/finish on Lap 1. Toth and Price completed Lap 1 in 16th and 17th, respectively.
Though De Keyrel briefly relinquished the lead on Lap 2, he made an aggressive move at Turns 12 and 13 to retake the lead. De Keyrel went on to claim victory in the final Twins Cup race of 2021 by 1.688 seconds. Price finished in 11th place — missing out on a top 10 by less than a tenth of a second despite making an error at the Museum corner late in the race — and Toth brought his Aprilia home in 14th place.
The Barber round marks the conclusion of the 2021 MotoAmerica season, and the Robem Engineering team will announce its plans for 2022 in the near future. The team thanks Aprilia and its many other technical partners for a successful 2021 campaign.
Kaleb De Keyrel / No. 51
"The forecast was calling for rain all weekend, but it was dry on Friday surprisingly. I was happy to end up third in Friday qualifying, but I was unable to put in the best lap time I was capable of due to getting held up and the session getting cut short. I felt really confident in Saturday qualifying and posted the best time of the session. I knew I just needed to not throw it away in the race, but it was a pretty stressful race. I had another rider pass me then crash right in front of me. When the red flag came out, I was kind of bummed because I had a good lead going. But it is what it is, and my Aprilia RS 660 was working great all day long. Our technical partner, Velocity Calibrations, had the rain settings dialed in for me. It means a lot to get this win to cap off the year on a good note. A huge thank you to Robem Engineering for giving me a great bike all year, as the RS 660 was working phenomenally all year rain or shine."
Tommaso Marcon / No. 70
"I enjoyed this track from the very first lap. It is amazing here: this facility is just incredible. I think this track would be amazing in Europe, as we do not have something like it over there. I was happy to get the pole position because this is a new track for me, but I think with more time on this track I could go a lot faster than I did. It takes time to find the best lines and reference points. There isn't much to say about Sunday. I got a good start but the bike experienced an electrical problem in Turn 3. You can't always anticipate this kind of issue, and I hope to win many races in MotoAmerica in the future. I want to thank Robem Engineering, Aprilia, the team's sponsors and Matt Spicer and Carl Price for making my racing here in MotoAmerica happen."
Max Toth / No. 58
"Honestly, this track is very different from New Jersey. It was tough trying to learn the track in the early part of the weekend. When the rain hit, things got even more difficult from there. I had two high-side crashes in the rain sessions, which set my confidence back a bit. The goal I set for myself for the race was just to bring the bike home unscathed, which I did. The result wasn't what I wanted, and it's not the way I wanted to end the season."
Carl Price / No. 532
"Qualifying 1 getting red flagged set me back a little bit, as I usually build up my pace as a qualifying session goes on. I really wish I'd started farther up the grid, because I truly love riding in the rain. I had a little bit of a technical issues due to rider error yesterday, but I was feeling great today. I was reeling in the riders in front of me on the last laps but crashed at the Museum corner. I got back up and was able to finish 11th, but I really wanted that seventh place finish. These bikes do amazing in the rain, and the Aprilia RS 660 is a great racing platform."
The following is from Yamaha…
Fresh N' Lean Attack Performance Yamaha Racing's Jake Gagne finished his stellar 2021 season on a high note with a record-breaking 17th MotoAmerica Superbike win in today's Race 3 at the Barber Motorsports Park. It was a much better day two for the newly crowned champ, who finished third earlier this morning in the second race of the tripleheader. Josh Herrin was all in for the win and went with slick tires in the mixed conditions in Race 2. Unfortunately, he was unable to finish, but he rebounded to close out the season with another top-10 finish in the challenging conditions in Race 3.
Gagne got a great start from the fourth row of the grid in Race 2 and made his way to within reach of the podium on the opening lap. He patiently waited in fourth as the two riders ahead battled for second and then made his move to third at the beginning of Lap 6 as they lapped his teammate. Gagne kept second in sight, but with five laps to go, the race was red-flagged due to a deer crossing the track. With the required percentage of the race completed, it was called, and he returned to the podium in third.
After two bizarre races, Gagne returned to dominant form in the final race of the season. He claimed the lead early and set a blistering pace to quickly build a comfortable gap up front and cross the line with a 12-second margin of victory. It was a fitting end to a landmark season for the 29-year old who, in addition to claiming his first title in the premier class a weekend early, added several record-breaking accolades to his resume. He broke five lap records out of nine venues and led a phenomenal 244 laps. Gagne also broke the record for most consecutive wins with 16 and then for the most race wins in a season with today's 17th victory, which also puts him in a tie with Nicky Hayden on the AMA Superbike all-time win list.
Looking for that first win of the season, Herrin rolled the dice in the morning race and put on slick tires in hopes that the track would continue to dry. Unfortunately, it did not dry as quickly as it has done in previous years, and Herrin was lapped by the lead group just after the start of Lap 6. He kept pushing and was starting to drop his times as the track dried out, but unfortunately, it started to rain again, and he ultimately withdrew from the race.
In Race 3, Herrin rebounded with a great start from the fourth row of the grid and made his way to fifth on the opening lap. He was riding comfortably in fifth but unfortunately went off track on Lap 6 and rejoined in eighth. The Californian quickly recovered a position but also found himself in a multi-rider battle and jockeyed for position. He was seventh until the penultimate lap but unfortunately went off track again and was shuffled to 10th. Herrin rode it home to score his second top-10 finish on a difficult weekend in Leeds, Alabama.
Richard Stanboli – Fresh N' Lean Attack Performance Yamaha Racing Team Manager
"We were able to finish the season properly today with a win and a new record of most wins in a single season. Race 2 did not go as we expected and a setting based on yesterday's heavy rain ultimately was not the ideal setup, and Jake had a hard time staying with the leaders in the very light rain from this morning. Learning from that, we made adjustments, and Jake once again ran away from the rest of the field for yet another flag-to-flag race victory.
"Our 2021 championship season is another success to add to our 2020 championship results. It has been an amazing experience! We can't thank the staff at Yamaha enough for giving us the opportunity and the trust in what is now two of our best seasons in Superbike racing."
Jake Gagne – Fresh N' Lean Attack Performance Yamaha Racing
"What a year! I'm so happy for what we've accomplished, and to finish it off with a win is amazing! Again thanks to the whole team. We've got such a great crew, and everybody works so hard. I had a lot of fun riding in the wet, and this Attack R1 was on rails again. It was good to get a win in the wet after that crazy day yesterday. Man, what a way to finish the year!"
Josh Herrin – Fresh N' Lean Attack Performance Yamaha Racing
"It was a tough weekend and definitely not your normal race weekend at Barber Motorsports Park. I really wanted that win and had nothing to lose, so after going out on the sighting lap, I saw the dry line forming and switched to slicks. Unfortunately, the track didn't dry out like it normally does, and it didn't work out. I got a good start in Race 3, but I was struggling to find my comfort zone and finished 10th. It's not how I wanted to end the season, but we gave everything that we had and look to come back stronger next year."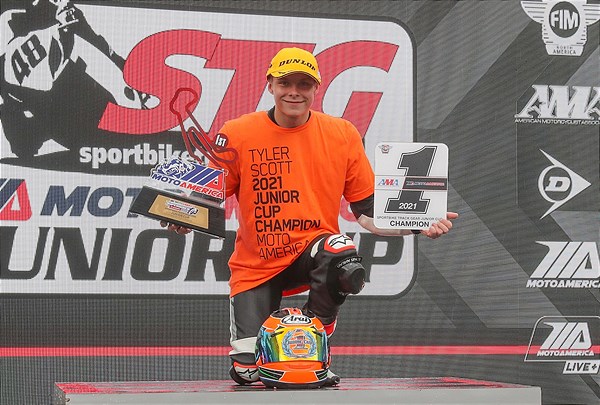 The following is from KTM…
Fifteen-year-old Tyler Scott wrapped up the 2021 MotoAmerica Junior Cup Championship over the weekend together with an impressive 1-1 sweep at the Barber Motorsports Park season finale. The KTM Supported rider was officially crowned on Saturday following a title-clinching victory aboard his Scott Powersports KTM RC 390 R, and he didn't stop there as he charged his way to another dominant performance at the final race on Sunday.
Entering the weekend with a 30-point lead in the Junior Cup Championship, Scott knew he only needed to finish race one within five points of the second-place rider and the title was his. The Pennsylvanian did just that, earning a championship-winning victory with one race to spare in the series. On Sunday, the newly crowned champion went to battle once again with his closest championship competitor and he came away with another close victory to round out the season with a positive 1-1 sweep in Alabama.
After spending the past two seasons primarily in Europe where he competed in the Red Bull MotoGP Rookies Cup and then the European Talent Cup in Spain, Scott has had an incredible rookie season in the MotoAmerica Series earning 11 career victories, as well as four podium finishes, in 18 total races.
Tyler Scott:"It feels really great to win the championship in my first year in the Junior Cup. We've been pretty consistent with our finishes this season; we have 11 race-wins and definitely very consistent throughout the whole season. I felt really good on the bike and it handled great all season, I think it's an amazing bike for the series."
Chris Fillmore, Racing Manager: "We're super happy for Tyler and his team. For him to take his experiences learned in Red Bull Rookies Cup and bring it over to MotoAmerica, hop on the KTM RC 390 R and win 11 races this year is something really special and it's definitely deserving of a championship. I just want to thank Tyler, his dad and his team for doing such a great job representing. He for sure has a bright future in racing."
For more information on the MotoAmerica Series and to view full results and championship standings, visit their website at www.motoamerica.com.
The following is from Pure Attitude Racing…
The 2021 MotoAmerica season ended at Barber Motorsports Park yesterday with Pure Attitude Racing once again showing their front running pace.
The highlight of the weekend was a maiden top ten in Supersport for Austin Miller who rode superbly in the pouring rain to finish P11 on Saturday before splashing his way to ninth on Sunday, matching the times of those ahead of him for much of the race.
Nate Minster was back on track after missing the last round in New Jersey because of school commitments. He retired from Saturday's race, electing not to ride on Sunday.
In Twins Cup both Liam MacDonald and Trevor Standish revelled in the wet conditions. Qualifying on the third and fourth rows of the grid respectively, they quickly moved forward when the lights went out Standish in contention for the podium before sliding out of the race in spectacular fashion. Running just behind Standish, MacDonald was promoted to fourth after running fifth before he too crashed with just a couple of laps to go.
Pure Attitude Racing wishes to take this opportunity to thank its riders, crew members, sponsors, and everyone at MotoAmerica for an amazing year. They will be announcing their full 2022 program, including their rider line up for next season shortly.
Austin Miller – 9th: "I finally finished in the top ten. After being so close again on Saturday I was determined to make it happen in the final race of the season. The conditions were worse, but I made a good start but then fell back a bit. Once I settled down, I was able to go faster and me and Dominic (Doyle) worked together, and we passed the bunch of guys ahead of us. It was a great race, and I am so happy to finally make the top ten with a career best finish."

Liam MacDonald – DNF: "I was feeling really good this weekend and really enjoyed riding in the rain. They red flagged the race and because of the rain falling heavier the track conditions were different when we restarted. I had a couple of moments and took my time to find my rhythm and made some real progress. I was running fifth and then when Trevor went down that moved me into P4 but then I went down too. It sucks to be honest because once again I wasn't able to bring it home in the position that we deserved but that's racing, and I am excited to learn from this year and come back stronger with Pure Attitude Racing next year."
Trevor Standish – DNF:"The race started well, and I made a good launch off the line, but the bike didn't feel right. I don't know if it was running on one cylinder in the beginning, but something wasn't right. The race was red flagged and we were able to find a solution and then in the restart I made another good start and was a lot more aggressive. I worked my way up to fourth and fighting for the podium but then I had an issue. I don't know if I hit a false neutral and the RPM skyrocketed, and I went down. There was nothing I could do. It's a bummer as we showed again that we had pace and it makes me even more hungry to get the job done next year"

Nate Minster – DNF/DNS:"On the warm up lap it started to rain pretty heavy, so everyone ran wet tyres. I was doing ok, not super-fast but ok but I wasn't feeling the setting of the bike and had no confidence, so I pulled in rather than risk a crash. On Sunday I decided not to ride based on the weather being the same and how I was feeling. I want to thank the team for all they have done this year and for supporting my decision not to ride."